Dutch Language Lessons by ielanguages.com
Learn Dutch Phrases, Vocabulary, and Grammar with Free Audio Recordings
The Dutch language is a Germanic language spoken by about 28 million people in the Netherlands, Belgium, Suriname and the Caribbean islands of Aruba, Curaçao and Sint Maarten. Dutch is closely related to Afrikaans, English, and German as well as Frisian. The variety of Dutch spoken in Belgium and northeastern France is called Flemish. Tthanks to native speaker Mariska for the audio recordings. If you are learning more than one Germanic language, check out Germanic Vocabulary and Germanic Verbs.
Need more Dutch? Try the Learn Dutch Online course at Udemy or the audio and video podcasts at DutchPod101.com
---
Buy Dutch Language Tutorial as a PDF e-book! Dutch Language Tutorial includes a vocabulary and grammar review of the Dutch language (more than what is available online), with one hour of mp3 recordings by a native speaker, and Dutch realia photos taken in the Netherlands and Belgium so you can see how the language is used in real life. The PDF e-book and mp3s are available for immediate download with FREE lifetime updates. Thank you for supporting ielanguages.com! Download the first ten pages of Dutch Language Tutorial (including the table of contents).
---
To download the Dutch mp3s, please purchase Dutch Language Tutorial.
Index of Dutch Lessons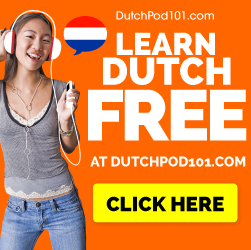 Dutch III
Dutch IV (included in PDF e-book only)
Parts of the Body
Relative Pronouns
Uses of Er
Animals
Infinitive Constructions
Past Perfect Tense
Conditional Mood
Diminutives
Present Participle
Passive Voice
Dutch Realia (included in PDF e-book only)
Photographs and scans of public signs, menus, brochures, receipts, etc. that show how the Dutch language is used in real life in Dutch-speaking countries